FG 2019 03 08 – The Well of Dreams & Sorrows
Second game of the day, standard scenario.
So I positioned Old Mother Parma and Apothecary ready to make a dash for the well. Only for Tipstaff to dump a Wall right in front of it.
But I did manage to get some troops to a treasure, one fell, but then I outnumbered the enemy.
On the otehrside of the board, henrietta helped with Telekenisis and my thuggette was running for the board edge and safety.
And in picking up the treasure, I triggered a random monster event of two wolves who popped up behind, and attacked Tipstaff's Ranger.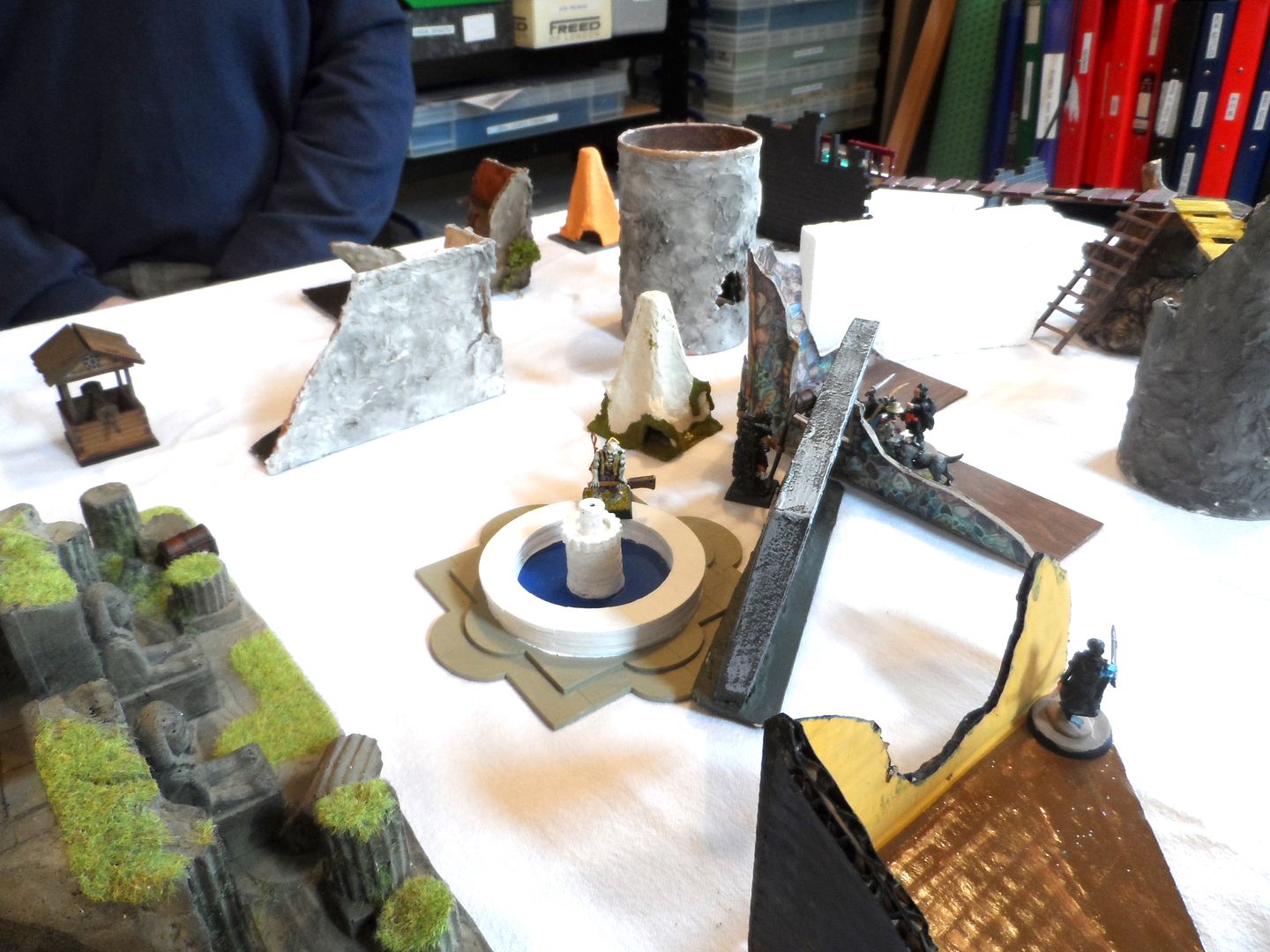 In the centre, Tipstaff with his abhorrent undead minion moved towards the well and pushed up troops to take on mine.
Whilst his Ranger despatched the wolves easily.
As did my archer who raced to the rescue of the thugette in another random monster encounter.
A second wall was cast to try and cut off my troops, and Parma retaliated with a fog spell – bit difficult to see as it is white on white (it sits behind the main combat upper right. This also stopped an exchange of fire between my Markswoman and some more of Tipstaff's Archer's which had gone mostly in my favour.
A swirling melee took place in the centre wedged between magical walls and the ruined walls. In this case, the UNDERDOG won, with my war hound biting and killing the Barbarian.
And then the hound went on to attack Tipstaff, injuring him but…
…then being mobbed by minions and succumbing himself.
Two of my remaining warriors, decked another enemy, and started lugging the treasure away to safety.
Which triggered another wandering monster…an ice spider turned up behind Henrietta.
With real life time running out, and having dispatched the ice spider, we rolled to see if my two adventurers escaped with a third treasure for me, and sadly I failed.
Must be time to paint up more of my ladies ahead of next week's game.
Some more retrospective games to follow as a wade through the backlog.